Best prices and service
and safe hire cars in Crete
See our new fleet of hire cars:
All cars have air conditioning
Our prices are in Euro, and are all-inclusive
In our rates below the following is included:
New cars (0 - 3 years max)
Unlimited mileage
Second driver free
Maintenance (oil and greasing)
Safety belts in all cars
Full insurance including damage cover (Collision Damage Waiver), theft cover (Theft Protection) and third-party cover (Third-Party Liability). If you like, you can buy extra insurance to cover your excess (Full Insurance without any excess) at Euro 5 per day.
24% V.A.T.
24 hours road assistance, replacement of vehicle in case of breakdown anywhere on Crete
Free map
Child seat (1-4 years) and roof rack free on request
No deposit, free cancellation, cash or credit card payment on delivery
Free delivery/ collection to/ from hotel or Chania airport/ port, Heraklion airport/ port from 1 week rental
Prices Low Season April - May - June - October


Prices High Season July - August - September

Type
Model
3 days
7 days
14 days
21 days
A
Kia Picanto A/C
Fiat Panda A/C
Skoda Citigo A/C 5D
105


145

190


250

360


490

525


700

B
Hyundai i10 A/C
Toyota Yaris A/C 5D
115


160

200


270

380


520

560


760

C
Hyundai i20 A/C 5D
Kia Rio A/C 5D
125


185

220


290

420


550

620


800

CA
Kia Rio A/C 5D automatic
160


215

270


350

520


680

750


990

D
Hyundai i30 A/C 5D
Skoda Roomster A/C 5D diesel
Opel Astra ecoFLEX
135


205

240


320

460


620

670


900

G
Kia Sportage 4WD
220


250



360


430

700


840

1020


1220

E
Mini Bus Fiat Scudo 1.6 (A/C)
9 seats 4D
250


330

450


650

870


1250

1270


1800

Prices Low Season April - May - June - October


Prices High Season July - August - September
All cars can be delivered at and/ or collected from the airports and harbours in Crete, or at your accommodation in Crete.
For delivery at the airport we need your estimated time of arrival, flight company name and flight number. The representative of Sfakia Tours will meet you on the airport. To leave the car for collection on the airport you just have to leave the keys inside the car on the parking area or give them to the representative at the car parking kiosk.
It's also possible -when you have a hotel or apartment reservation in Sfakia and want a hire car- to have a taxi transfer to your accommodation, and have the car delivered there. Click here for the taxi transfer prices.
Requests & reservation
Please fill in the secure form below to hire a car, or send a request, or
You can also send us a question about availability and prices through
a short message. Your data will be sent using a secure connection, and are safe.
Photos
Sfakia Tours office on the village square of Chora Sfakion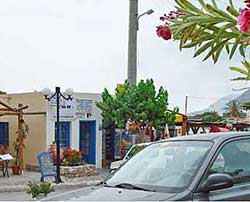 Sfakia Tours office on the village square of Chora Sfakion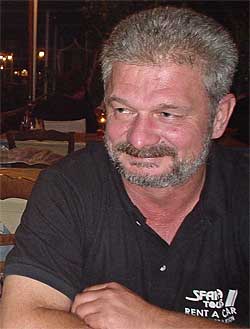 Manager: Damoulis Botzakis